After my Dulcinea dinner, I still bought some food for midnight eats later.
Since there was no Piadina Express anymore at the Food Choices, I just bought from World of Chicken and El Presidente.
From
World of Chicken
I bought Chicken with Corn and Mushroom Sauce, Tuna Fettuccine and Asian Noodles.
Both noodles were just so-so.
From
El Presidente
I bought Pancit (Miki/Bihon) with Salt and Pepper Squid. An order comes with Prawn Chips and Soup.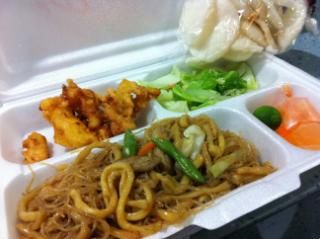 The squid were just okay. While the pancit tasted different, in a not so good way.
Happy Eating!