I was craving for their Rocky Mountain Brownies, that I immediately went out of the house to buy myself a couple. Unfortunately though they only have two pieces of it left at their Manila Pavilion branch. I were told it was because it's the last day of that branch. Not wanting to leave with just 2
Rocky Mountain Mogul Brownies
, I bought other brownie flavors too.
I bought a couple each of
Peanut Butter Dream Bar
,
Golden Brownies
and
Macadamia Fudge
.
The Peanut Butter has the same taste as the Rocky Mountain but with peanut butter. The Golden Brownies tasted like a chocolate chip cookie while the Macadamia Fudge Brownie has the same taste as from a Betty Crocker Fudge Brownie Mix.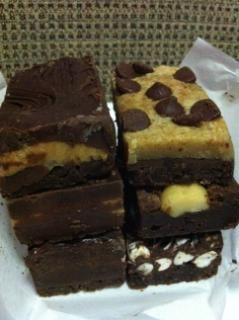 Craving satisfied.
Happy Eating!