Last Sunday, the entire family went out to eat and shop in Trinoma. As always I looked for something to bring home for my sweets stocks. I tried finding one at Parvati but their desserts don't interest me. I liked Dezato's Mochi and Gigi's Custaroons and Poppers, but I wanted something new. I wanted to try Gigi's Green Tea Poppers but they were not available. I was losing hope of buying something, and it was near the mall's closing time, when I remembered
Bread Monster
.
I haven't tried everything they sell yet. So I went there, bought a lot of
Cookie
S'mores
, which BTW weren't as good as those that I have tried in their Market Market branch, but which I still bought, as I am a sucker for chocolate chunks, especially big and multiple ones.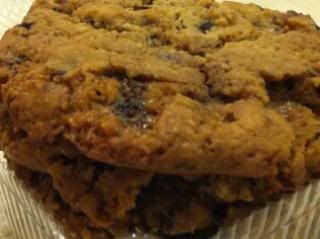 The lady tending the store was very generous with the tasting portions that she gave me. She let me try the S'mores Bar and the Molten Chocolate Cake, which she said was best eaten warm.
I liked both, but since I already hoarded on S'mores Cookies, I only have room for one. I chose the
S'mores Marshmallow Bar
.
It was a different take on S'mores, as instead of graham crackers, they used oatmeal, and brownies for the chocolate part.
I like this S'mores version, as it also reminded me of a Revel Bar, which is one of my favorite sweets.
Happy Eating!