I bought some groceries inside SM Hypermarket in Mall of Asia. And on one corner I bumped into the table of
Madonna's
and its cupcakes and muffins.
I was looking at the
Red Velvet Cupcake
and wanted to buy that but when I asked the seller what's the icing on top and she answered whipped icing, I looked the other way. I want Red Velvet with cream cheese frosting and not whipped or marshmallow icing. The
Chocolate Cupcake
beside it was what I focused my attention on next, which apparently was also their bestseller.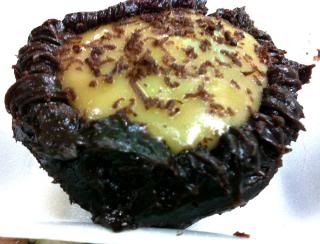 - I dropped it that's why it looked this way
It's a chocolate cupcake with chocolate ganache and caramel.
Though you will notice right away that they didn't use high quality chocolate, and that the cupcake base was not moist, but for just 35 pesos, and with chocolate ganache and caramel, I think it will do.
Happy Eating!