After spending hours and hours inside Forever 21 in SM Makati, I went out with a lot of shopping bags and was supposed to have dinner, when I got a text message from Schu in Glorietta 3 informing me of the Cambridge Satchels arrival. It was unexpected since I just made a reservation last Saturday, and looking from the number of people on the list, I thought it would take me months before I can have my batchel. My name was at the 4th or 5th page. I immediately went there and looked at the new arrivals. I got first dibs, as it was also already late, around 830-845PM. They didn't have the Purple Batchel that I wanted, what they have were fluorescent satchels, a yellow music bag ( I love the color) and a green and pink batchel. Since I wanted a batchel I was just choosing between the green and pink. I love the color green on a satchel, but on a batchel, it just looked too manly. So I bought the pink batchel. I were later told that they sell on a first come first serve basis and not on the number on the reservation list. They just inform those on the list of the bags arrival.
I still want a satchel, so I didn't remove my name from the list but instead added 13" satchel colors purple, green and yellow.
Since the mall was already closed after my bag purchase and Greenbelt was too long a walk and I was already very hungry, I just got up the escalator to the 3rd Floor and chose among the food stalls inside the Food Choices.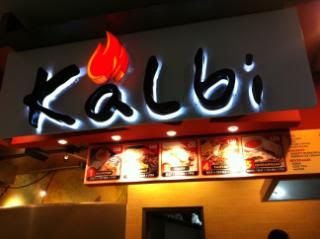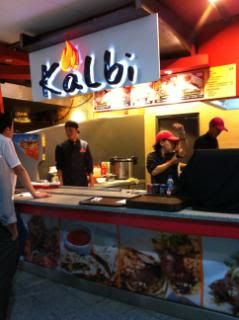 Kalbi
is something new for me, so that's where I bought my dinner. The lady at the counter told me that the
KB BOP (149)
is their best seller, incidentally, it was also the one I wanted to try.
You have choices of either pork, beef or chicken. I chose chicken.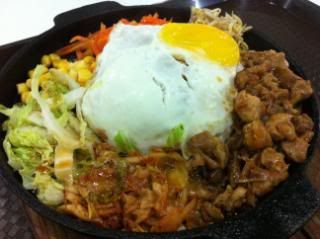 Kalbi's KB Bop has bean sprouts, carrots, cabbage, kimchi, corn, and chicken surrounding the steamed white rice topped with fried egg.
An order was huge that I wasn't able to finish it all, that and also because I ate a bag of Tater's popcorn while on my way to the Food Choices.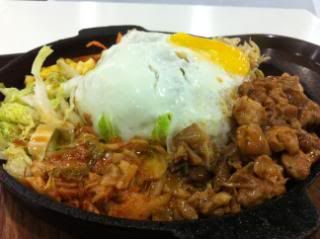 The vegetables and meat were arranged in a cute and colorful way, that it seemed inviting to eat, but it does not only looked good, it tasted good too, for a bibimbap that is. And although it doesn't have that much assortment of vegetables as Kaya's bibimbap, but for the 149 price, it's more than enough.
Happy Eating!
KALBI
Food Choices,
Glorietta Makati