After my Qi Wellness Massage, I went to Robinsons Place for dinner and a little shopping.
It was raining hard that afternoon which explains the choice of mall. It was near to where I live than Glorietta or Greenbelt. And I don't want to be stranded somewhere far, if the rain continues.
I was already near Robinsons when I realized that I have already tried all the restaurants in the mall. Meaning there's nothing new to dine in to or so I thought, cos just as I entered the mall and was about to eat at Chef d' Angelo, of my favorite Sampler #2, I passed by Kangaroo Jack.
It's the first time I saw nor heard of them.
Browsing thru their menu, the
Fish and Chips
caught my eyes. It was cheap, as in just a few peso over a hundred. And when I asked the server about it, she said that an order's big, around 3-4pieces of breaded fish. It seemed too good to be true, but I still wanted to try it.
When it arrived, it did have 3 pieces of breaded fish fillet, but that's just about it. Why, you might ask. Because that 3 pieces of breaded fish fillet were mostly breading and just a paper-thin layer of fish. While the fries were too oily and soggy. It was indeed a waste of money and calories.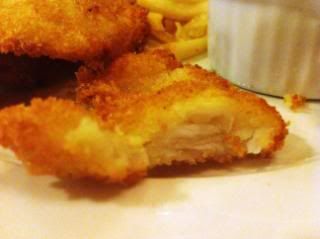 I was sad as the restaurant's menu looked promising and the staff were accommodating and attentive. I just hope that the fish and chips were the only bad item on their menu, and the rest are good. Fingers crossed.
Happy Eating!
KANGAROO JACK
Ground Level, Robinsons Place,
Ermita Manila