Back again at Cafe Breton, we ordered the following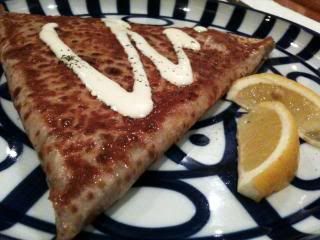 GALETTE BRETONNE (P267)
- spinach, shrimps sauteed with crab meat, fresh cream and Gruyere cheese
So delicious and filling. Not too rich even with the fresh cream and Gruyere. And compared with my previous savoury crepe/galette orders, this was bigger and thicker, that I even let my entire family taste it.
BRETON MOZZARELLA BURGER (P204.75)
- all beef patty with a mozzarella surprise, served with a side salad
Soft and juicy beef patty. Used high quality beef according to my brother-in-law and the rest of my family members. My brother said that this was best eaten cold, the day after.
GO FISH OPEN FACE SANDWICH (P204.75)
- smoked salmon on a bed of scrambled egg and whole wheat toast
I like how soft and creamy the eggs were and how fresh the salmon tasted. It just needed more salmon.
POSEIDON (P238)
- smoked salmon, dill sauce, sour cream and capers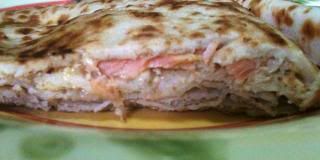 This was my least favorite among their savoury crepes. I don't like the caper and the too tangy dill sauce. Only the salmon and the buckwheat galette were what I liked.
I am aware that dill is the usual accompaniment of salmon, but I really don't liked its taste in the crepe. It was too tangy.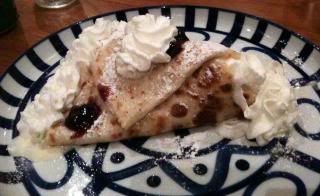 BLUEBERRIES AND CREAM (P228)
- blueberries in syrup and cream, with vanilla ice cream
Mango ice cream was put instead of vanilla.
According to my sister this has a clean, cohesive, simple and light taste than their original sin.
For my dessert, since I already ate 2 savoury galettes (Bretonne and Poseidon), I just had a scoop of caramel ice cream with sliced almonds.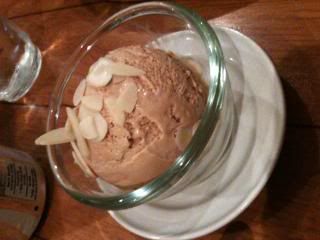 For their drinks they had, Cafe Mocha and Rootbeer Float.
Happy Eating!