We were at Robinsons Place Ermita two Sundays ago and for dinner we ate at our favorite Chinese restaurant,
Mann Yann
(formerly Ta Yann).
We ordered
Deep Fried Dumplings
,
Hototay Soup
,
Yang Chow Fried Rice
,
Fish Tofu Hot Pot
,
Fried Spicy Squid
,
Steamed Fish with Garlic
,
Beef Brisket
,
Miki Bihon
,
Green Mango Shake
,
Strawberry and Sweet Corn Sherbet
.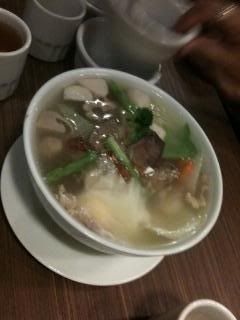 HOTOTAY SOUP (P220)
- clear soup with egg, meat, liver, seafood and vegetables
- just okay. I didn't get to enjoy it since my order of sweet corn sherbet was served first.
DEEP FRIED DUMPLINGS (P120/6PCS)
- a favorite of my brother, but I like the steam one more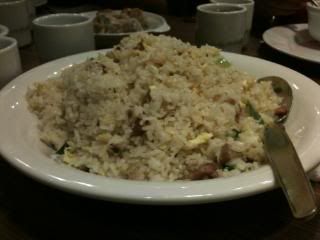 YANG CHOW FRIED RICE (P200)
- Chinese fried rice with shrimps, minced pork, egg and green peas
- good and well-seasoned
MIKI BIHON (P250)
- this was so good. Well-seasoned and generously topped with meats and vegetables.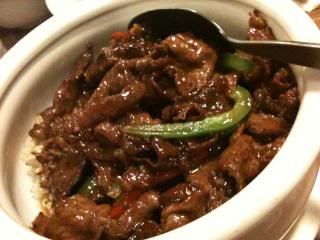 BEEF BRISKET (P280)
- I didn't try this because it arrived late, but my brother-in-law liked it
FISH TOFU HOT POT (P260)
- this was just okay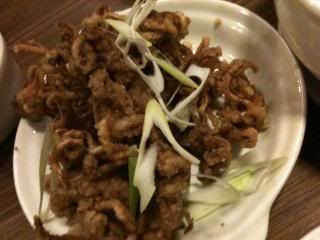 FRIED SPICY SQUID (P300)
- not spicy at all but still delicious dipped in vinegar. I was hoping for the same squid experience as that of what we had in Makansutra Singapore though. But this will do for now.
STEAMED FISH WITH GARLIC
- this was better than Superbowl's version. Thick fish fillet and with the garlic tasting buttery at times
GREEN MANGO SHAKE (P90)
- very sour. It will really cleanse your palate of MSG overload
STRAWBERRY SHERBET (P90)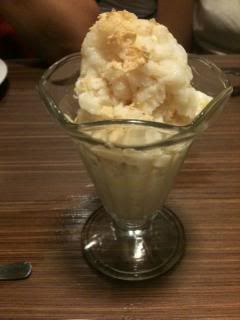 SWEET CORN SHERBET (P90)
- the Sweet Corn was just okay. I like their Strawberry Sherbet more. It was sweet and tart at the same time.
My favorites from the spread are the
Steamed Fish with Garlic
, the
Fried Spicy Squid
and the
Miki Bihon
.
I ate a lot that Sunday night.
Happy Eating!