The flavors that day were
Simply Tart
,
Double Vanilla
,
Cake Batter
,
Orange 50/50
,
Boysenberry
and
Belgian Chocolate
The staff said that all flavors are low in sugar and are non-fat, even the Cake Batter which was so sweet.
The Orange 50/50 tasted like Royal Tru Orange, the Boysenberry like blueberries, the Simply Tart was tangy, the Double Vanilla tasted like McDo's sundae, while the Cake Batter was like Jollibee's Sundae, which has a condensed milk color and taste.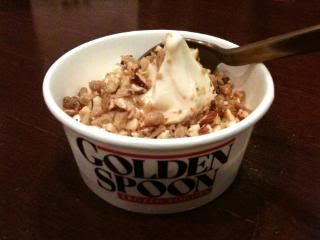 I was torn between Butter Pecan and Almond Roca for topping, but since I don't want it to be too rich, I chose the Almond Roca. A terrific choice. It went perfectly well with the Cake Batter yogurt flavor. Creamy, crunchy, sweet, nutty and slightly toffee-ish.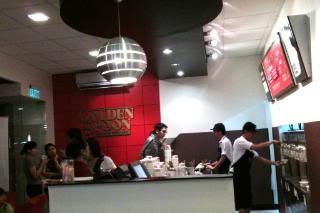 Happy Eating!