If I can't think of what to have for dessert in
Robinsons Place Ermita
, this is what I would buy.
There's not much to consider for someone who's off chocolates. Most desserts nowadays either have coffee, liqueur, chocolates or tea. All of which I was asked to avoid for the meantime (indefinitely).
Right now, I am running out of options and choices.
Their Blueberry Cheesecake was not something that I would have often if I was allowed chocolates or tea. But for now it would do. It was creamy, not too sweet, and it's crust was also okay, not oily like Banapple's. So it would really be okay for now.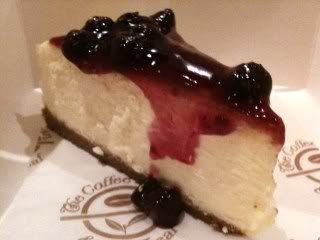 My usual order before was their Chicago Cheesecake, but since I want it a little bit sweeter, I order the Blueberry. The only difference was the topping anyways.
Happy Eating!