With half an hour to spare waiting for my test result, I waited it out at the Patisserie of Manila Pavilion.
I wanted to order the Waffle with Whipped Cream, Fresh Strawberries and Powdered Sugar, but since it was just half an hour and I wanted to savor every bite of my waffles plus it was close to dinnertime, I just chose or rather I let the server choose between the Mango Macapuno Muffin and the Bread Pudding. She said that the Bread Pudding was the better choice.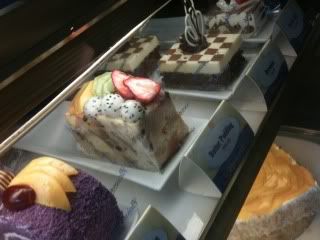 Contrary to other bread pudding that has an accompanying sauce, the Pavilion Bread Pudding's sauce was already infused in the pudding. It was already creamy on its own.
I also love the assorted fresh fruits on top. I just hope that they will put more nuts in it.
And for dinner I had my favorite from Chef d' Angelo, the Sampler 2, with the pizza changed to a red sauce pasta and an extra order of regular ranch dressing.
I really love their fries dipped on ranch dressing. I can eat it every day.

Happy Eating!