After watching
Catch Me
, and after my theater snacks of
Quickly Taro Taro
and
French Baker's Peanut Butter
and
Oatmeal and Raisin Cookies
, I had another dessert at
Caffe Ti Amo
. I sampled just two flavors,
Blueberry Cheesecake
and
Dulce de Leche
.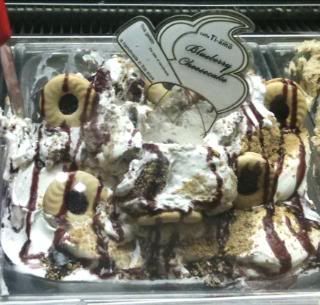 The blueberry was true to its name, just milder, same with the dulce de leche. Between the two, the dulce was sweeter and has a stronger taste. I ordered the uno waffle gelato - 1/4 waffle with fruits, whipped cream and caramel sauce, topped with gelato. It is just good for one. The fruits were just mini pieces of watermelon and a peach wedge. The waffle was crunchy on the outside but almost hollow and soft inside. It (waffle) was good with just the whipped cream and caramel sauce. It can even do without the gelato which was bland compared to the whipped cream and caramel sauce.
Btw, I were told that their gelatos have 90% less fat and sugar. This statement confused me. I just watched Lizzie McGuire The Movie, a few weeks ago. They were in Italy, and when they went inside a gelato shop, their teacher said that a gelato is like an ice cream but with just more sugar. I don't know if this is true or not. If gelatos are supposed to be liked that, sweeter than ice cream thus have more sugar, and Caffe Ti Amo just made theirs healthier, thus the 90% less fat and sugar.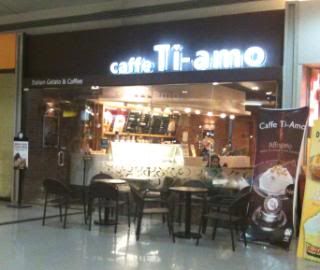 Happy Eating!