I just had CBTL's Blueberry Cheesecake for 3 consecutive days now, that I feel I needed a break from it.
Things would have been easier if I were allowed chocolates. There are a lot of new desserts at Starbucks, all of which has chocolates, even their cake pops' base is chocolate cake. So to deviate from the usual cakes and brownies, I had cookies for dessert.
STARBUCKS CAKE POPS
I bought
Jack's Loft White Choco Chunk Cookie (P30)
and
French Baker's Peanut Butter (P37
) and
Oatmeal Raisin (P46)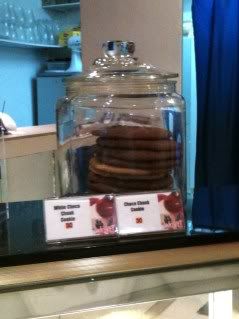 JACK'S LOFT WHITE CHOCO CHUNK
The White Choco Chunk of Jack's Loft smelled divine. As if you were transported to a confectionery shop. I smelled it a couple more times before I took a bite, rather I broke a piece.
It was crispy, sweet and creamy but with not much white chocolate in it. It would have been better if it were chewy rather than crispy. But I wouldn't mind buying one or two again, just for the smell.
I am fascinated with anything Parisian. Paris is on the top of my bucket list. The city I would really, really, really love to visit if money was not an option. So it wouldn't be a surprise that I like French Baker's tray liners, so much so that I take it home with me, just one per design :-)
FRENCH BAKER OATMEAL RAISIN AND PEANUT BUTTER COOKIES
Now back to the cookies, I bought Peanut Butter and Oatmeal Raisin Cookies from them (French Baker).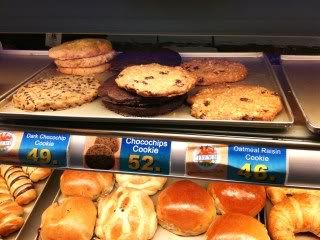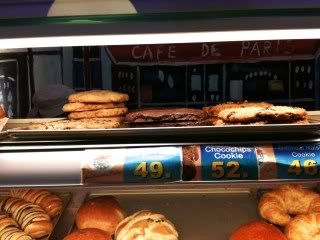 They both didn't have that confectionery smell that Jack's Loft White Choco has, but they were better, better in taste.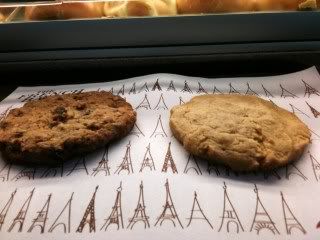 From the two, I like the Peanut Butter more. It was chewy, buttery, slightly salty and nutty too. The Oatmeal Raisin is, I were told , the best seller. It was also super chewy. I just found it too sweet though esp the raisins.

Happy Eating!