Since their Thai Halo Halo is no longer available at their 168 branch, I ordered their Chicken Sate and an order of white rice instead.
The Sate was made to order.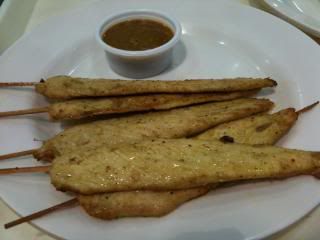 CHICKEN SATE (P120)
Five pieces of marinated chicken, deep fried in what I saw were 2 kinds of oil (didn't ask what), served with supposedly was their peanut sauce, which didn't taste like it has any peanuts at all, but has more of a curry taste and was also slightly spicy. Fortunately though, the Sate and the sauce were both good.
Happy Eating!