Baked herbed dory fish with Sicilian vegetable stew, Italian seasonings and cheddar cheese on a ciabatta bread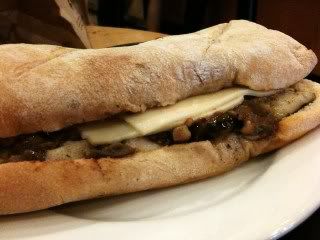 More like a pizza than a sandwich, with the taste and the cheese (though not melted). You also wouldn't even notice that it is fish you are eating. Aside from you wouldn't taste it (fish are bland), you also wouldn't be able to notice it from the rest of the sandwich ingredients (vegetable stew). At first I even mistaken it for an eggplant.
You would also have a hard time eating it with a knife and fork because of the bread used (ciabatta- when just serve you wouldn't have a problem, but later on, it becomes chewy and thus hard to cut). And if you decide to eat without utensils, your teeth will take the blow.
But with all that said, I still like it and would definitely have it again, after my dentist appointment though ( I have a toothache).
Happy Eating!