6 alternating layers of chocolate cake and chocolate ganache, topped with chocolate rosette and white chocolate slabs.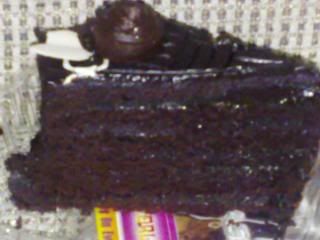 When I asked a staff what else was good aside from the Torta and Mucha, she immediately answered, the
Chocolate Jubilee P98/slice
. It is made especially for chocoholics. Isn't it obvious already?
The verdict: The chocolate cake was moist but with a lot of lumps that ruined my cake experience. I guessed they forgot to sift the flour.
The chocolate ganache was similar in taste to that of Polly's but has a coarse texture. It's hard to like something less when you have tried the best.
More food to try here though, 'til next time.
Happy Eating!ARISTOCRAT
Roxas Boulevard, Manila