I came across their site thru another food blog that I came to know by chance also. I logged-in, supplied them with info like name, bday and e-mail add. I then received a confirmation e-mail that I printed-out and carried to the nearest
Delifrance
outlet.
I was given two pieces of their
Chocolate Chip Biscotti
for free, wrapped and tied with a gold ribbon, that they also sell for
P240/7pieces
.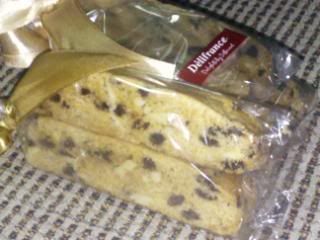 Their Biscotti was packed with ingredients like nuts and chocolate chips.
It was also the first time that I like a biscotti.
And not only did I receive a gift but I also became a secret santa to someone and
they too received free biscottis from Delifrance.
Merry Christmas!