After dropping off my laptop for repair at the Toshiba Service Center in Jupiter I coaxed my companion to buy some pastries at Mickey's Lartizan (my companion doesn't want to dine there, don't know why).
There were a couple of breads on the counter for sampling (I tried the sourdough, multi cereal and lavash, all were good) but I just bought two,
Pain Au Chocolat P60
and
Blueberry Muffin P40
.
The Pain Au Chocolat though soft and a little bit flaky was not sweet. There were also not enough chocolate to go around.
The Blueberry Muffin was also soft, moist and with fresh blueberries incorporated in the muffin.
On our way out we passed-by the deli and bought an order of their
Potato Salad P75.44 and Bavarian Meatloaf P495/kg
.
The Bavarian Potato Salad has onions in it (or was it sauerkraut?). The taste was different, combination of tangy and sweet.
The Bavarian Meatloaf (choice of the fine one or the granulated/morsels one) has pork and beef meat, pork fat, ice salt and spice.
It was "malinamnam" and also not too salty unlike other processed food.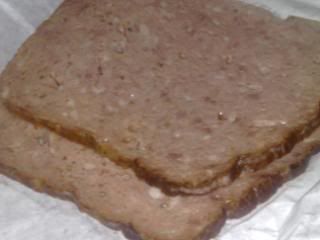 Maybe next time I can dine there and order their Pancake dessert or their other entrees.
Happy Eating!MICKEY'S
Jupiter Street, Makati