I have read that they sell cute, delicious and "Taiwan Cakes-looking" cakes and pastries. And since Taiwan is famous for their expensive-looking cakes and that they are particular with their presentation and packaging (remember in Meteor Garden where San Chai worked in a bake shop in Taiwan?) I immediately bought one to try, what else but their best seller
Blueberry Mousse P55
.
I really wanted to try their other mousse because it's bigger and looked more delicious, but it's with mocha cake so I just settled with their best seller.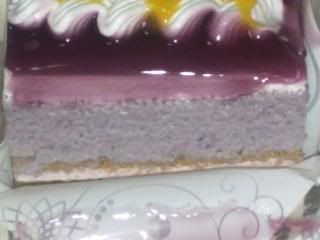 Layers of blueberry-flavored sponge cake and blueberry mousse, topped with blueberry gelatin, sugar icing and dried fruit.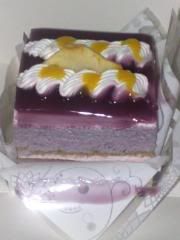 It smelled funky, I don't know where it's coming from. The sponge cake was also dry. The only thing that I like in the cake was the blueberry mousse.
Would I come back? May be, I would like to try one of their pastries, the one with "tikoy" outer layer, sponge cake and custard and also their mango bread.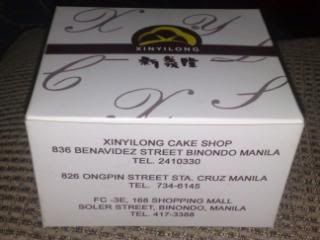 Happy Eating!XIN YI LONG CAKE SHOP
*836 Benavidez St. Binondo Manila
Tel # 241-0330
*826 Ongpin St. Sta. Cruz Manila
Tel # 734-6145
*FC-3E, 168 Shopping Mall, Soler St. Binondo Manila
Tel # 417-3388