I saw, tried, bought and liked a lot of food at the bazaar and here are just some of them.
ANGELATI ITALIA
I ordered one of their best sellers, the
Scoop-a-Snickers at P60/scoop
.
It did taste like Snickers chocolate with peanuts. I just find the consistency and taste of the gelato too plain, I'm a little disappointed.
DAISY'S
They're only available in Pampanga and in some bazaars. Also all their products are cooked/baked in the pugon.
I tried and bought two, the
Yema Tart P40/5pieces and the Cashew Tart P6
.
Yema balls on top of a tart crust.
It was good, from the yema balls down to the tart crust. My husband loves the Yema Tart so much that he wanted to eat them all. I just told him we'll buy more next time.
The Cashew Tart was also good. Crunchy, sweet and cheap.
CARMEN'S
All their products were available for free taste, I liked and bought two to cook at home. The
Chicken Embutido P35 and the Skinless Longganisa P35
.
Both were flavourful without being too salty. A breakfast viand that will surely be appreciated. I should have bought more.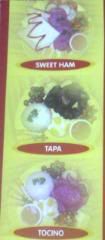 JUST DESSERTS
I bought two cookies from them, the
Chocolate Oatmeal Cookie and the White Chocolate Macadamia Cookie, both at P15/piece
.
Both cookies were packed with ingredients of nuts, oatmeal and chocolates.
Chewy, sweet and crunchy. One of the rare occasion that I got smitten by a cookie 'coz I don't usually eat them except for the Oreo cookies of course.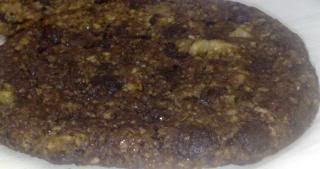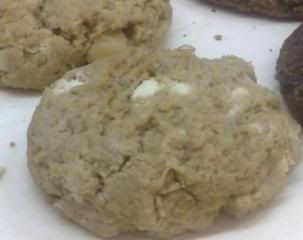 The Chocolate Oatmeal tasted like Revel Bars while the White Chocolate Macadamia has almost all my faves in one cookie, macadamia nuts and white chocolate, who wouldn't like that?
BIG DADDY'S CHICKEN
It was the smell that made me try it. It was screaming Chinese/Asian. The owner said that they're franchise of the one that's famous in Taiwan.
They have three flavours for their chicken, original, chili and lemon something. It is cooked/fried only upon ordering.
I ordered the
Chili Chicken at P75
.
Deep-fried boneless chicken dusted with chili powder.
It is evident that it's packed with spices and it deeply-penetrated the chicken inside and out. It is spicy but still tolerable.
A tender chicken that's good to eat even without any sauce, dip or gravy.
POLLAND
From their many products I chose the
Chinese Ham and Cheese Stuffed Bread P35/slice
.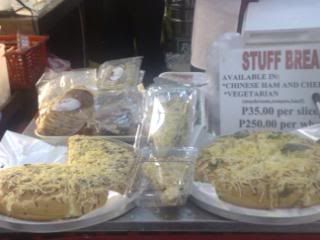 They kept saying that it tasted like pizza but it's not. It's just like eating bread with cheese pimiento spread. I can't see nor taste the Chinese ham in it. But still a good snack.
I should have followed my guts and bought the mushroom instead. It looked yummier + it just came out of the oven.
ENG BEE TIN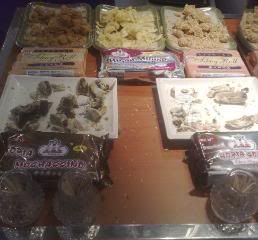 They have free taste of some of their products, mostly new like, peanut roll, peanut hopia, mocha hopia, etc. Of all of them I like the peanut roll more.
Here also are some pictures of celebrities that graced the event.
Happy Eating!NOEL BAZAAR
World Trade Center