Here are just some of my buys that weekend at the
Baker's Dozen
: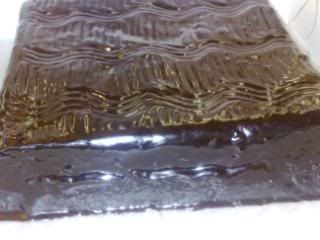 POLLY'S CHOCOLATE CAKE (8x8 – P360)
My Top 1 Chocolate Cake. Still chocolatey and stick-to-the-roof-of-your-mouth fudgy.
I would love to buy the 7-inch round instead but they ran out of stock =(
Their
Cookie Dough Cheesecake
on other hand tasted like any ordinary cheesecake.
I observed that their
Bread Pudding
was smaller than last year and not as tasty anymore (I hope it's just random).
NANA MENG'S TSOKOLATE (FOR FONDUE) P100
It was thick and rightly-sweetened. It was fun dipping the marshmallows in it. Their
Biko
was also good and affordable.
BOHEMIA'S CHOCOLATE LAVA CAKE P50/PC
Molten chocolate cake with bittersweet chocolate center and white chocolate drizzle.
I was told by the owner that it was best eaten warm (10 seconds in the micro). So that's what I did. Did I like it? Well, it did make the chocolate inside melt (made me enjoy eating the cake) but aside from that the cake was dry and a bit hard. It also needed a little bit of sweetness.
I still think of Cyma's Chocolate Lava as the Best Chocolate Lava I have ever had.
I have also tried their
Biscotti
(mix of white chocolate almond and chocolate walnut) and find it a little dry. Their
Spinach-Artichoke Dip P220/150gms
has chunky spinach pieces but I still like Connie's Kitchen version best.
PUFF MOMMY'S CREAM PUFF P140/6PIECES
It appealed to me when I tried it for free taste, but back at home I found the puff a little dry and the custard tasted like chilled butter (maybe I shouldn't have put it inside the ref, but still). Also, the chocolate topping was thin-tasting and not fudgy at all.
You can tell that it wasn't good because that 6 pieces lasted for a week and I even threw some of it away. No one wanted to eat it that I just ate some of the custard filling, licked the chocolate top and threw the puff. If they were
Tinapayan's Cream Puff
, they wouldn't even last a day, they are that delicious.
Happy Eating!BAKER'S DOZEN
Powerplant Mall, Makati City