Out with my friend Anjean last tuesday, we dined at the recently opened (opened November 11, so I guessed it was not-so-recent anymore)
MOMO
in Robinsons Place Ermita for a late lunch.
We ordered the
Spicy Pow Pao Spaghetti P149
, the
MOMO! Big Burger and Onion Rings P249
,
Herb Chicken Pesto Mayo and Crispy Bacon P195
,
Mocha Choc-Nut Frappe (16oz) P99
,
Lava Cake P115, Americano P69
and
MOMO Choc-Nut Valrhona P105
. Phew!
Since I noticed some of their items/products were similar to that of
Chelsea
like their Cookie Dough Cheesecake, Toblerone Torte, Carrot Cheese & Chocnut Valrhona, I asked a staff if they're somewhat related to the said resto, she told me that they're a sister company of Chelsea together with
M Café
. They're the cheaper version of Chelsea. They have similar presentations on their pizzas but they (MOMO) sell solo size of their pizza flavours for P100 up. Also, unlike Chelsea they are semi self-service. You need to place your orders on the counter and pay immediately. You'll be given pending/waiting numbers and you just wait for your orders to be delivered/served at your table. It's good that they don't have service charge and that they are on a free wi-fi zone.
Back to our orders, the first to arrive was the Spicy Pow that we asked to be split into two.
Spaghetti with peanuts, chicken and chilies.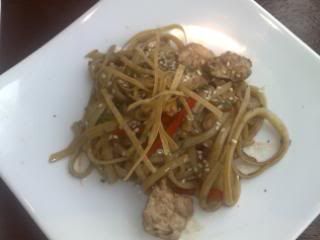 It was spicy like a Kung Pao Chicken Pasta and also flavourful.
Next came the Herb Chicken Pesto Mayo and Crispy Bacon.
Sandwich of boneless chicken with a thin spread of their herb dressing, topped off with pesto mayo and crispy bacon.
It has a fishy taste (I don't know where it came from) but still good. The combination of pesto and mayo were good with the tender herb chicken and crunchy & salty bacon.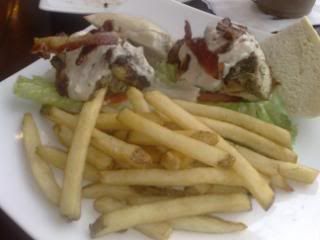 The MOMO! Big Burger & Onion Rings followed suit. Contrary to Chelsea's Angus Burger, MOMO used just plain beef patty and not Angus, but the thickness was still the same.
The burger was thick and juicy with fried onions on top that added crunch and sweetness to the burger.
Both sandwiches were served with thick-cut fries that were crunchy, crispy and rightly-seasoned.
Their Mocha Choc-Nut Frappe tasted strongly of Choc-Nut with a slight hint of coffee flavour. My friend who had this liked it more than Starbucks, the same applied to their Americano (strong and rightly-flavored).
Last came our desserts (make that mine only) of Lava Cake and Choc-Nut Valrhona.
The Lava Cake was served ala mode.
It's also a little sweeter than it should be but still better than some of the Lava Cakes that I had. It was fudgy and dense that went perfectly with the creamy vanilla ice cream and chocolate syrup.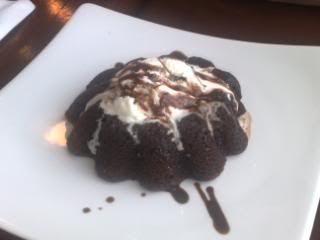 The Choc-Nut Valrhona was served topped with whipped cream and drizzled with chocolate syrup.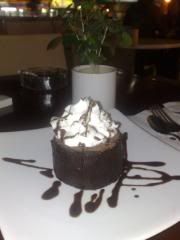 It was also fudgy and dense like the lava cake but devoid of the gooey center. It can be compared to a chilled chocolate bar in texture and consistency and with the top dusted with cocoa powder.
This one has just the right level of sweetness.
Both desserts were very filling and somewhat heavy on the tummy.
I would definitely come back to try their Carrot Cheese, Egg and Ham Benedict, Nutella Banana Waffle, Melted Meatball and Cheese Sandwich, Cream-y Egg-y Carbonara, 3-Cheese Super, Smoked Salmon and Dill Cream and Sweet Spicy Chicken Peanut Pizzas and their Green Tea with Honey Smoothie.
The bad thing with the resto was that their staff were not knowledgeable of their menus . Most of them don't know what's in their food that they can't make suggestions and recommendations. Still, I hope they'll be patronized by more people so that they'll be opened for a long time and I would be able to try everything on my list.
Happy Eating!MOMO Food + Drink
Robinsons Place Manila
Midtown Wing