It was love at first sight. I fell in love with it the first time I saw it on the top shelf of the
Circles Bakeshop
.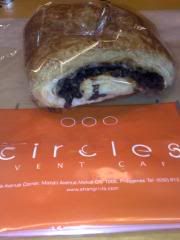 It has chocolates oozing from both ends. I even thought that it might be hollow or devoid of chocolates inside, just like most of the croissants and pain au chocolat I have tried, but I was wrong.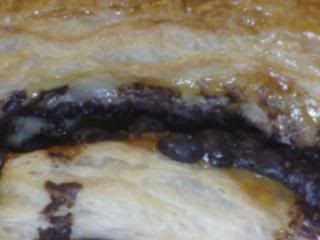 It has chocolate from top to bottom and all around inside.
Filling aside, the croissant was soft and flaky but doesn't break into pieces or crumbles in your every bite. The chocolate used was of higher quality, strong and not too sweet, just the way I like it. I personally think that it's the best chocolate croissant in the Philippines.
I would definitely come back to buy more of it (chocolate croissant) and their Cinnamon Rolls, Flourless Chocolate Cake, White and Dark Chocolate Donut and maybe their Ensaymada too.
Looking outside I saw the entire dessert buffet and was impressed. I'll try it sometime, when I'm feeling extravagant and when my waist allows.
Happy Eating!CIRCLES BAKESHOP
Shangri-La Hotel,
Makati City