Before watching the
Twilight
, we had an early dinner at
Italiannis
in Mall of Asia.
We ordered half
Four-Cheese
and half
Classic Pizza
and a lunch order of
Shrimp Fra Diablo Pasta
.
I was set on ordering just the Four-Cheese, but the staff kept on insisting that we try their best seller pizza flavour, the Classic Pizza, so I caved in. Good thing though, 'coz it's better than their Four-Cheese.
The crust was soft and chewy and the myriad of toppings complemented each other. The taste of the Classic was familiar but I can't remember from where and what.
The Four-Cheese was not that good and I can't distinguish one cheese from the other.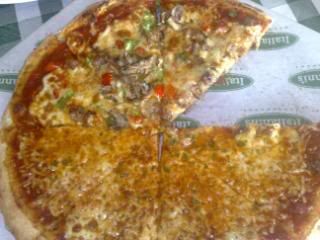 The tomato/pizza sauce used were far stronger than the cheeses, that's why that's all I tasted but with a slight burnt taste that I don't like.
The Shrimp Fra Diablo is a new addition to their menu.
It was the spicy and pomodoro cream sauce description on the menu and the recommendation of the staff that got me to order it. But when it was served I didn't get the cream sauce nor the something spicy.
I can compare it to
Chef d'Angelo's Seafood Paella
in taste but less spicy and also expensive (with just 4 pieces of shrimps in the pasta).
Aside from their complimentary breads (refillable), their pizzas also good dipped in their balsamic.
Happy Eating!ITALIANNIS
Mall of Asia