Since I want to try the 20 Yummiest one at a time (2 at the most), here's another cake included in the list, the
Cashew Toffee of Sugarhouse at P120 (baby size
).
I have been eyeing it for quite some time now, way ahead of the Inquirer's list.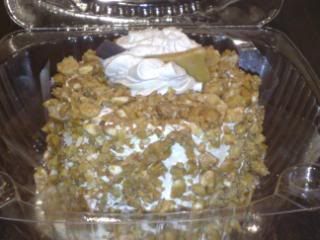 Chocolate chiffon cake with chocolate mousse encased in caramel buttercream and coated with cashew and toffee bits.
In my opinion, it tasted like a sansrival, with the buttercream, nuts and all.
Also, the taste of the toffee was too prominent that you can't anymore taste the chocolate in it. Toffee lovers will definitely love the cake 'coz that's all you'll be tasting from start to finish, a good cake nonetheless.
Happy Eating!SUGARHOUSE
Powerplant Mall