We wanted to erase that bad experience from TGI friday's that we went to
Cafe Breton
to wallow in their sweet and sinful crepes.
My preggy friends both ordered Fantastic Pinay with extra vanilla ice cream and almonds, While I had the Deja Vu with extra almonds.
DEJA VU (P211)
Although it was good I found it too sweet and reallllly sinful.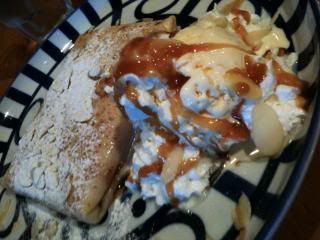 Overly Sweet mangoes with cream sauce, caramel syrup, whipped cream and vanilla ice cream. Next time I'll just stick with my banana crepe DIY order. Because although it is sweet (but not as sweet as the mangoes), it is also healthy. Bananas have lots of health benefits, one of which is supplying our body with potassium.

Happy Eating!

CAFE BRETON
Trinoma Mall