We were supposed to watch a movie (Source Code) after Pepper Lunch, but shelved the idea and just walked around the mall and buy a lot of stuff. I even got to buy new accessories from Forever 21 :-)
The long and nonstop walking got us hungry and tired, that we decided to stop
at Chef d'Angelo for dinner and just to sit and rest our tired feet.
We ordered the Chicken ala Buffalo (5pieces), Seafood Medley, Creamy Chicken Pesto, Great White Pizza (9 inches), Cheese Fries and lots of extra ranch dressing (P30/each) and for dessert, Plain Waffle.
CHICKEN ALA BUFFALO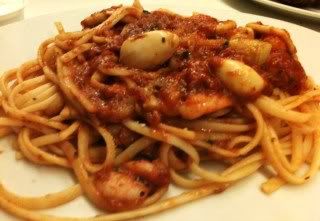 SEAFOOD MEDLEY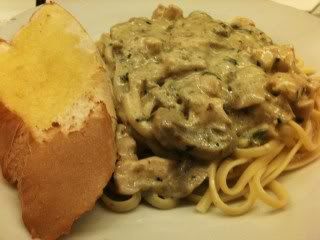 CREAMY CHICKEN PESTO
GREAT WHITE PIZZA
CHEESE FRIES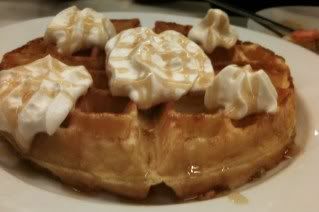 PLAIN WAFFLE
The chicken were big and tender, the pizza were tasty and the crust not oily, both pasta were good too. Although we ordered the Chicken Pesto and not the Creamy Chicken Pesto, but we just let it slide, we were too hungry and tired to complain.
The Cheese Fries were also good, just that the serving was little compared to its usual size.
There were only two desserts available that night, Plain and Chocolate Waffle. I chose the Plain Waffle with whipped cream and maple syrup.
The waffle's good too. Crunchy on the edges but soft and sweet inside, not too hollow too.
Happy Eating!
CHEF D' ANGELO
Glorietta 5
Makati City