Our saturday out did not stop at Cafe Breton.
Just an hour after our dessert crepes and 2hrs after our Friday's lunch, we were slightly ready for dinner. We ran out of things to do. And my preggy friend can't walk nonstop. Though now it was just two of us (my 7 month preggy friend and I). I can't think of anywhere else to eat that evening other than at
Tokyo Cafe
. It was nice that my preggy friend wanted to eat there too.
We walked from Trinoma to SM the Block just so we will have more room for the pasta and chicken of Tokyo Cafe.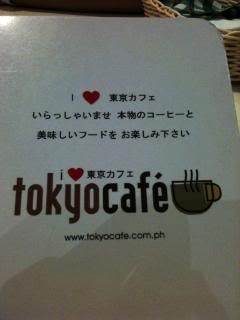 We ordered
Chicken and Cheese Roll
and
Garlic and Shrimp Pasta
.
CHICKEN AND CHEESE ROLL (P258)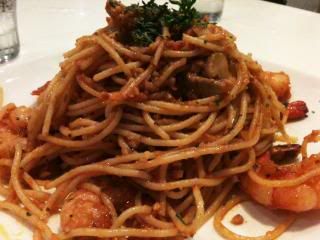 GARLIC AND SHRIMP PASTA (P258)
As expected, we liked both our orders. My preggy friend even asked me if I know how to make pasta like that of Tokyo Cafe, which was not too saucy but very tasty.
Up until that time we can't help but think of our TGI Friday's experience and shelling out that much. Actually, our total bill in Tokyo Cafe was just the amount of my chicken mushroom or even less than that.
Happy Eating!

TOKYO CAFE
SM North the Block
Quezon City