My college friends and I decided to meet-up one saturday morning for brunch at
Trinoma Mall
.
Both friends of mine were pregnant, thus don't want to go anywhere far, hence the choice of trinoma. I also let my other friend who's on the "critical stage/first trimester" of pregnancy and also her first pregnancy to choose on where to eat.
I came 30minutes late because of the horrendous traffic in C3 and when I arrived they already ordered the
Ballpark Nachos (P495)
.
They said that they wanted to order the spinach and cheese nachos from the mini plate but it might be too little for the 3 of us.
The nachos were served in this big oblong-shaped plate and topped with picadillo meat, salsa, pico de gallo and cheese. We found the cheese to little that we asked for extras.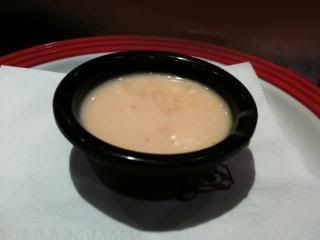 The serving was huge that it got us full right away. We forgot that we still have our mains to eat that we finished that entire big plate serving of nachos.
When our mains arrived we just took a few spoonfuls each of our orders and didn't eat it anymore. We were too full and heady from our nachos appetizer. My preggy friend who ordered the
Cajun Shrimp and Chicken Pasta
, just ate two pieces of the chicken cubes. I tasted her order and found that it tasted okay. The chicken were tasty and tender, the sauce was creamy with a cajun/spicy kick. My other preggy friend ordered the
Friday's Pork Adobo
, and she just took a few bites of the adobo and ate one ear of the corn on the cob.
CAJUN SHRIMP AND CHICKEN PASTA (P415)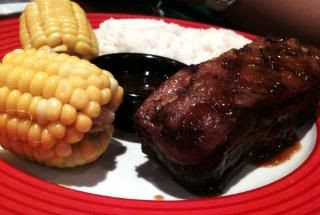 FRIDAY'S PORK ADOBO (P435)
In my case, I had the
Mushroom Chicken and Mushrooms
. I ate just one piece of the breaded chicken and some of the battered mushrooms. They were both just okay but definitely not worthy of its 500+ price. Not that good, even with the melted cheese sauce on top of the chicken and the mayo dip for the mushrooms. It was a total waste of money. 500+ for that allegedly must try dish.
MUSHROOM CHICKEN AND MUSHROOMS (P565)
I knew that I should have just ordered their tried and tested sandwiches or the chicken fingers. It was just that I wanted to try something new and relied on their recommendations.
All three of us regretted ordering mains. We should have just stopped with the nachos and moved to another restaurant for our mains. With the exception of my preggy friend who ordered the cajun pasta, all our mains orders were such failures and expensive too.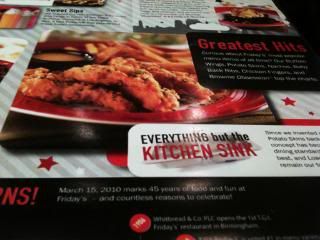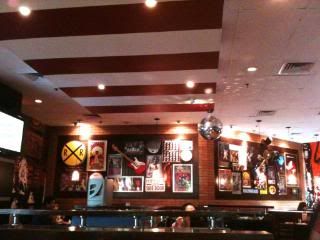 Happy Eating!
TGI FRIDAY'S
Trinoma Mall