Back again at
Ms B's
, just a day after. The Singaporean chef/owner was still the one who welcomed me, he even remembered my last order. He also made recommendations, on what I should have that afternoon. And again, he wanted me to try their
Iced Tea
, which again I declined.
I did follow his recommendations and ordered
Fish and Chips (P240)
. It is served with
Salt & Vinegar Chips
( that you can also order on its own for P65), Tartar Sauce and Vinegar.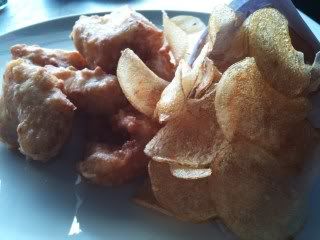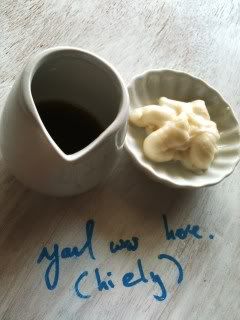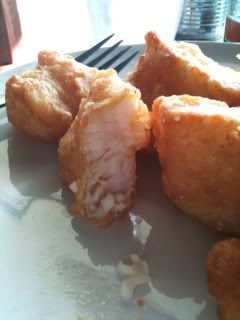 I were told that they too make their own vinegar. Not the vinegar itself though, rather they buy vinegar from outside and put flavors in it, to make it taste the way they want it, sour with a slightly sweet taste at the end. I found it went well with the lightly battered fish than the fish with the tartar sauce. If vinegars were as good as theirs, I want to have it every day.
The Salt & Vinegar Chips were good too. Thinly-sliced potatoes, seasoned just right, with a sweet finish.
He really wanted me to try their Iced Tea that he sent a little for me to try. It does taste different. Like it has honey and berries. And he was right when he said that it is refreshing.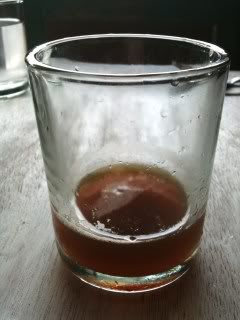 Since I know that I can't come here every day, I also ordered
Pomme Dauphines (P65)
, which were like potato croquettes, but theirs were coated with Cajun flavors, that taste slightly the same as their Buffalo Chicken Burger. The insides too were creamy and cheesy (they don't have cheese but tasted like they did have cheese).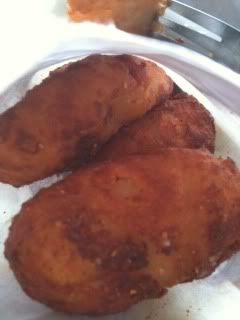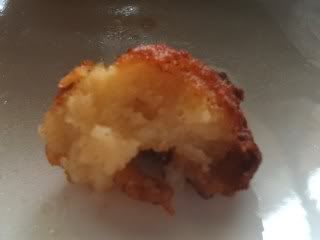 And as expected I had the
Manila Cheesecake (P195)
again for dessert.
It was as good as before.
I would have wanted to try the
Roasted Marshmallow Milkshake
, but they still don't serve half orders of it (they never will, the owner said) and they still don't offer it to go (They will eventually. At the moment, the owner's having a hard time finding a container for that size).
I also wanted to try their
Calamansi Beignets
, and hoping to have it to go, since I am not that fond of doughnuts ( except the NY cheesecake and Double Chocolate Cake of Krispy Kreme), I didn't want to have it there. I wanted to have it to go, so that if I didn't like it I can give it to someone. But unfortunately, the owner/chef said that he doesn't recommend it to go.
BTW, the owner/chef also said that since they don't use fillers or extenders or thick batters or preservatives on their products, you'll get full with just having a a little. Your body will recognize the difference. He also said that you won't get fat from eating their food except for their desserts and milkshakes of course. Come to think of it, I think he was right. I thought that I won't get full with eating just Fish and Chips, or that it won't satiate me or tide me over that long, but it did. After my lunch at Ms B's I wasn't hungry anymore come dinnertime.
Also, I like more their Pomme Dauphines cold and not fresh out of the fryer. And I don't recommend having their Manila Cheesecake to go. Because aside from they don't have a proper container for it, the Mango Sauce it comes with wasn't enough or not as much as when you have it in the resto. Also, it's good and firm when eaten at the resto or right out of the chiller.
Happy Eating!
MS B'S TUCKSHOP
#20 Valdecon Bldg., Jupiter Street
Bel-Air, Makati City
***across Buendia Car Exchange
***same building as Planet Jupiter