I was back at ayala triangle after my late lunch at
Ms B's
and my mani-pedi at
The Nail Boutique
, it was already dinnertime by then. I would have wanted the Salmon/Unagi Combo of Pepper Lunch + their Summer Cooler (I so wanted to win the flip camera) for dinner, but I also wanted to try something new. So I just ordered one of my fave in
Pepper Lunch
, their
Spicy Tuna Shake Salad (P99)
to go, then off to
Ayala Triangle
I went.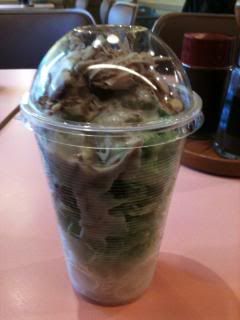 I bought something in almost each resto, like the
Quezo de Bola Cheesecake (P118)
at
Bfast
. I even bought two slices now. I know that it is not the best cheesecake, that it was far from the taste of a good cheesecake like that of Ms B's Manila Cheesecake, but I still like it. I like that some part of it were custardy instead of firm. I also like the brittle on top, which were cashews and not pili nuts ( w/c I thought before).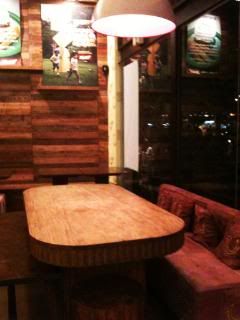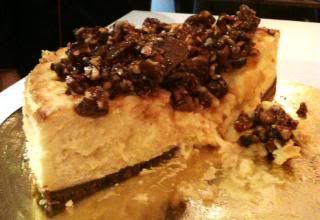 I then bought
Banana Praline Pie (P90)
from
Banapple
. I was to buy Banoffee Pie and Cherry something cake, but was able to restrain myself and just bought the Praline.
Its crust was not oily like the rest of their cheesecakes and pies. It's also different from the other/usual pies which use pastry crust, this made use of a cookie crust. The filling was banana and a very thin/runny custard, the top is cream and a very fine streusel topping.
The streusel and the crust taste the same.
I decided to have dinner at
Bonchon
. But not their chicken. I had it a lot of times already. This time I had one of their new products, the
Fish Tacos
. You can have just one piece (P75) or you can have two (value meal -P145 (2pcs) and P95 (1pc)), and with drinks or without.
Their Fish Taco was the soft kind, which uses tortilla bread. It also has breaded fish, raw shredded cabbage, tomatoes and a sort of thousand island dressing or something to that effect.
I like the breaded fish. It was so soft and fresh, and just lightly battered. It was such a contrast to their Chicken Chops, which although delicious can sometimes be over fried. I also like the dressing. I just don't fancy the use of raw cabbage. It was too rough/hard and there's a lot of it in there. As in. Overflowing.
I already know what I would order next time, their
Fish Ricebox
. An order comes with 3 pieces of breaded fish and rice for P125. I also would like to try their
Shrimp Ricebox
. And the
White Chocolate Cheesecake
of
Bfast
, which is always sold out by lunchtime every day, or so I were told by one of their servers.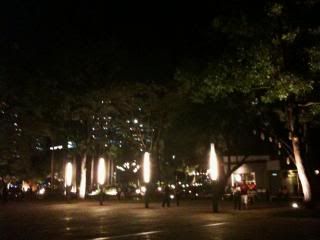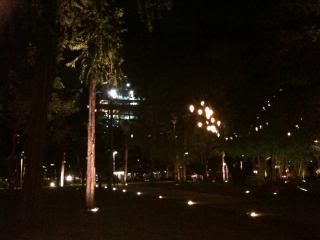 Happy Eating!

PEPPER LUNCH
2/F Greenbelt 5
Ayala Makati
*BFAST
*BONCHON
*BANAPPLE

*Ayala Triangle Makati