I saw their ongoing promo with Muraito and I got curious. Who wouldn't? With such a unique name and a good-looking burger on the ad. Anyone would be curious. I googled the name and came across different blogs featuring them.
I didn't buy the deal at Muraito though, because I didn't understand the mechanics that much, plus I could only avail them starting April 8, and I don't think I can wait that long.
I came to the Tuckshop prepared, with the knowledge of what I want to order.
Buffalo Chicken Burger (P185)
,
Cajun Fries (P65)
and
Manila Cheesecake (195)
.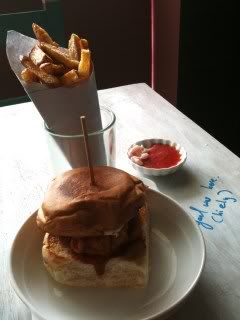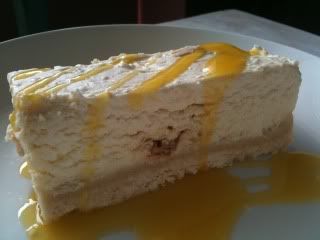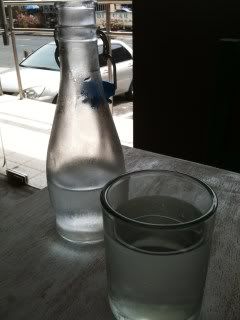 The Singaporean chef/owner was the one who welcomed me to the resto/tuckshop. He even explained to me their menu. That their fries are hand-cut, once fried and has no artificial flavorings. They weren't processed like the fries of fast food restaurants. Their iced tea too was from tea bags and infused with blueberry something. He told me that it is a must-try, but since I am off caffeine, I declined. Sayang. He also told me that they even make their own catsup/ketchup.
Back to my orders. The burger and the fries came simultaneously, followed by the cheesecake.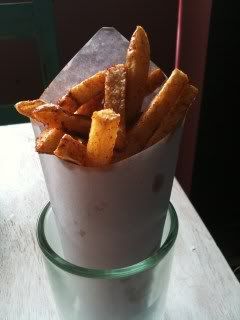 The Cajun Fries were crispy, slightly salty and not as spicy as you would expect it would, based on its name.
The Buffalo Chicken Burger was thick, smelled divine, full of chicken meat, and bursting with Cajun-like flavor. I got the standard level of spiciness, but you can request for a higher level of spice.
I rarely finish a burger, because more often, it has more bread/bun than meat/patty or the ratio of bun to patty is 3:1, and I am a certified meat eater. But with Ms B's I was able to finish the entire burger, it was full of meat, rather it has more chicken meat than bread/bun. I love.
I even told them that I love their Buffalo Chicken Burger and would definitely come back for more of it. I also told them that I hope they'll add a fish burger to their menu. I were told that it was part of their original menu but was dropped because the owner got busy, but eventually they will add it to their menu. Hopefully soon, when the owner's not busy anymore.
The Manila Cheesecake as I were told were named Manila because the ingredients are sourced locally, even the crust.
It is drizzled with mango syrup and with a yema surprise somewhere in the middle.
This too smelled divine and was very good. In between airy and thick and in between sweet and tart. I suggest that if you order the whole shebang (burger, fries and milkshake/drinks) that you share your Manila Cheesecake with someone, cos even something this good can be too much and too rich.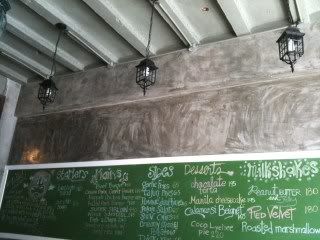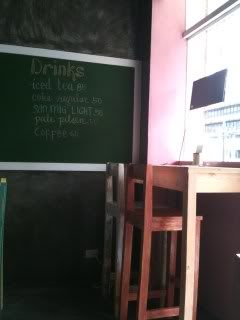 The interior of the Tuckshop was rugged, more like a car wash/garage type of place, with distressed furnitures (tables and chairs), unpainted walls, cement floors and a blackboard for a menu.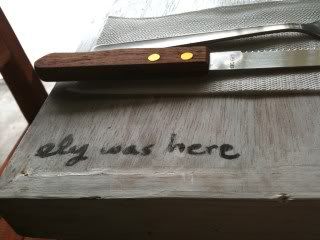 BTW, Tuck Shop is a British term for a small, food-selling retailer according to Wikipedia. In New South Wales the term is interchangeable with the word canteen.

Happy Eating!

MS B'S TUCKSHOP
#20 Valdecon Bldg., Jupiter Street
Bel-Air, Makati City
***across Buendia Car Exchange
***same building as Planet Jupiter