While looking around Robinsons Place, I came across their standee of their new product. I haven't had a hainanese chicken, here or in Singapore, so I don't know what to expect. All I know came from the blogs I follow or feedback from friends. I wanted to try Wee Nam Kee in Ayala Triangle, but Bonchon and Omakase always get the best of me, maybe next time I'll try them, I hope. But for now, I'll just have Kenny's version.
Theirs were served with chicken broth soup and the usual 3 dipping sauces of chili, ginger and dark soy.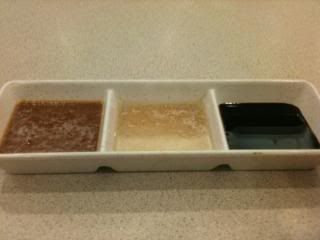 You will also be asked what part of chicken you like to have, I like white meat, so I chose breast part. It also has the most meat among all the parts.
I liked how tender and full of meat my chicken was, I also like the dipping sauces, especially the chili, which reminded me of the chili sauce KFC used to offer. I even forgot how dry their rice were because of it and finished the entire serving. Condiments/dipping sauces can really make a big difference.
Their rice were dry that day and with just a mild hainanese taste, I just like the fried garlic bits on top. BTW, my friend tried their branch in SMFV, and she said that there, the rice were moist and fluffy. I also didn't like how salty, as in very, very, very salty their chicken broth soup was, that I just ignored it.
Another confusing statement I read was on Kenny's standee. "Another way to be deliciously healthy", it was written. This confuses me. I read on another blog that hainanese chicken were sinful, bad for you than the twice fried chicken of Bonchon. She wrote that hainanese chicken has more fat than fried chicken. That the chicken will be swimming in their own fat. She was referring to Wee Nam Kee's hainanese though. I don't get what she wrote, because looking at Kenny's chicken, I don't think it's unhealthy or swimming in fat or full of chicken fat. I am one with Kenny's, I think it's one healthy way of having your chicken, the hainanese way.

Happy Eating!
KENNY ROGERS ROASTERS
Ground Flr, Robinsons Place
Ermita, Manila