We celebrated my niece's graduation with a dinner at CPK.
We ordered the following: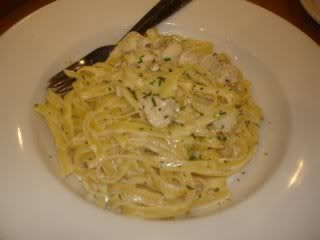 GARLIC CREAM FETTUCINE WITH CHICKEN
- fettuccine in garlic-parmesan cream sauce with Italian parsley and chicken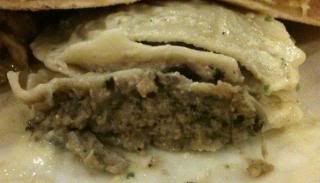 PORTOBELLO MUSHROOM RAVIOLI


- rosemary ravioli filled with portobello mushrooms, herbs and cheese. Topped with imported Italian tomatoes, fresh basil and garlic parmesan cream sauce

The Portobello Ravioli was delicious as always, the same goes with the Garlic Cream Fettuccine.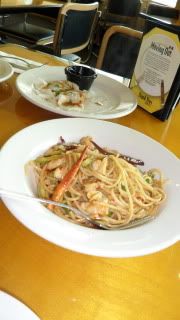 KUNG PAO SPAGHETTI
- spaghetti in Kung Pao sauce with garlic, green onions, peanuts and HOT red chilies

The Kung Pao's spicy hot, but you won't be able to stop yourself from eating it (shared sentiment by my niece and brother-in-law)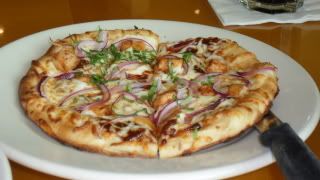 THE ORIGINAL BBQ CHICKEN PIZZA
- with BBQ sauce, smoked gouda and mozzarella cheeses, BBQ chicken, sliced red onions and cilantro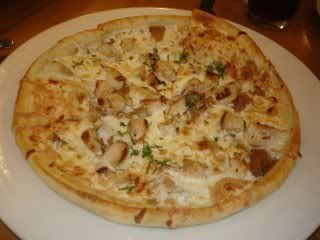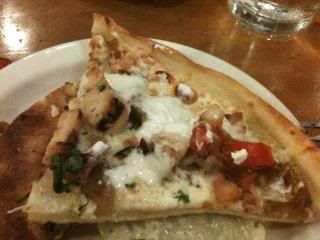 SANTA FE CHICKEN
- grilled chicken breast, marinated in lime and herbs, caramelized onions, mozzarella cheese and cilantro. Topped with fresh tomato salsa, sour cream and fresh guacamole
I am staying away from eating pizza, as per my doctor's order, Pizza Hut's pizza maybe, because they have oily crust and oily everything, but not CPK's pizza. Their crust are not oily like others, even the cheese in their pizzas are not over the top.
The Original BBQ, my favorite, was overshadowed that night by the Santa Fe pizza, must be the sour cream's fault.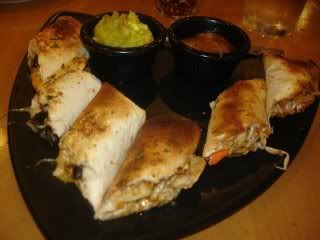 TORTILLA SPRING ROLL
I love the Baja Thai combination of their Tortilla Spring Roll and always order this when I dine alone, with just a drink or a dessert.
Happy Eating!
CALIFORNIA PIZZA KITCHEN (CPK)
Greenbelt 5, Makati City