After my Bistecca meal and my mini dessert of Empire Macarons, I still have a big void in my tummy to be filled mostly with desserts. My tummy lead me to The Cake Club. I know they sell yummy cakes. I remember buying from them a year ago, but it was Supermoist (a chocolate cake) I bought and a Baked Cheesecake. This time though I wanted to try something new, something without chocolate and coffee, and not a cheesecake. I still have 6 slices of cheesecake at home plus the newly bought White Choco Cheesecake at Kitchen Best. I ought to buy something else.
I bought two muffins,
Cranberry
and
Banana Walnut at P100 each
.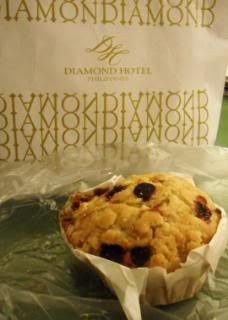 I were told that Chocolate Chips (sold out already) and Banana Walnut (just one left) are their best sellers.
I first tried the cranberry. I was surprised with the texture of the muffins, they were not as what anyone would have expected. They were like pastry crusts, not the flaky kind though, more like a doughy crust, like the chicken pie crust or savory pie crust of Banapple's. Imagine that crust, just a sweet and drier version of it, with a sour cranberry ( for cranberry muffin) and bananas and walnuts (for banana walnut). You get the picture?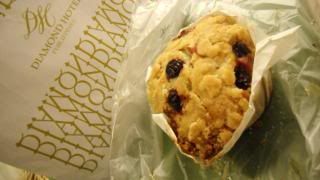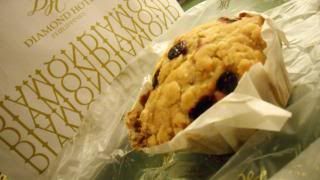 CRANBERRY MUFFIN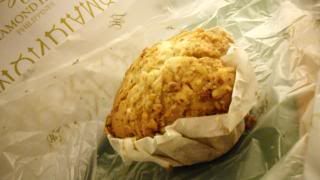 BANANA AND WALNUT MUFFIN
Or like a scone or biscuit, I think they're better suited with clotted cream and jams and not to be eaten solo like this.

Happy Eating!

THE CAKE CLUB BY DIAMOND HOTEL
2nd Level, Powerplant Mall
Makati City