Just recently open in Greenbelt 5, I was given a free taste and a mini banana cream tart by the owner, shy not to order after the free stuff, I settled for their Bread Pudding P110 and Biscuit Gelato P100/scoop.
The biscuit gelato is from Angelati Italia Gelato and also the favorite of the owner, which he never tell his wife, according to him.
I like it at first taste, like a cream wafer with frosted chocolate. But though it was delicious, it kinda get boring later on. No nuts, no nothing to break the creaminess and sweetness.
The Bread Pudding I was told, is a favorite among politicians. And also the best among all their products. And he was right.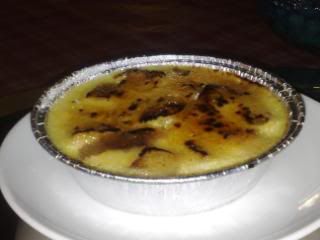 It was like a creme brulee with the caramelized sugar top and the creamy custard. I like it.
The Mini Banana Cream Tart was also good. The crust was too fragile though, it crumbled into pieces on my first bite. The custard inside was also lighter than traditional custard, both in color and taste. Though it was good, an addition of caramel or toffee wouldn't hurt.
You may choose to dine at the outside patio, with a band playing and a projector wall of photos. They will also serve you complimentary bar nuts while waiting.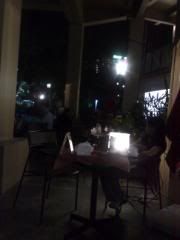 Happy Eating!

CAFFE MURANO AND ART SHOPPE
Greenbelt 5
*beside massimo dutti