Sweet bread of raisins and chocolate chips with chocolate filling.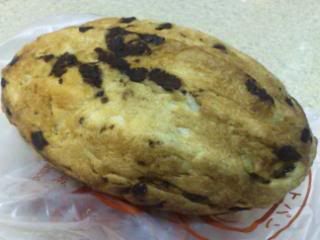 It's the first bread I bought from Dezaato that I like. It's in between a croissant and an ensaymada in texture.
Never let its' appearance intimidate you as something hard. The outer crust is like a buttery croissant that's crispy and flaky. The inside is as soft and also as buttery as an ensaymada. It also has a chocolate bar filling that's sticky and sweet when melted.
Happy Eating!