I was at
Makati Med
last Thursday and I happened to pass by
Floating Island
. Since I know that I'll be waiting long for my check-up I bought an
Oatmeal Bar P35
to entertain as well as satiate me.
Oatmeal cookie bar topped with chocolate.
Very chewy and sticky oatmeal bar, with the chocolate sticking to my teeth in my every bite.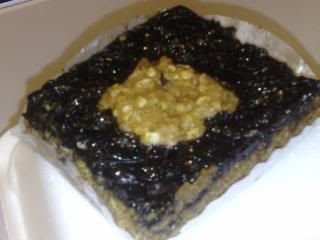 I was surprised that I like it. It was reminiscent of a Revel Bar, with the chocolate and oatmeal. But unlike a revel bar, where the chocolate is swirled in the oatmeal, in here it was put on top. Which was better, since you're sure to taste the chocolate in your every bite.
I can't wait to be back at Makati Med to buy more of this and also to try their Turtle and Chocolate Brownies.
Happy Eating!
FLOATING ISLAND
Makati Medical Center
Makati City