Layers of chocolate sponge cake, banana and chocolate mousse topped with thick chocolate ganache, decorated with chocolate rosette and dezaato pan's chocolate coin.
Perfect combination of chocolate and banana, not one overpowered the other.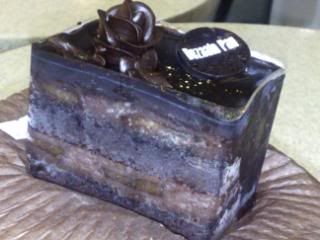 I'm not a fan of fruits in my cake but once in a while I can make an exception and dezaato pan's choco banana mousse is one of them. It's so good especially when chilled.
The first time I visited the moa branch, a staff recommended the cake but I was not that sold that I bought the green tea bread instead. This time around another staff offered it to me but I declined and bought a gelato. Not satisfied with just the gelato, I went inside and looked around one more time. A different staff recommended the cake again and seeing my apprehension, said that if I didn't like it he'll personally pay for it. I accepted his offer and tried the cake. Good thing though that he said that or else I wouldn't have tried and liked the choco banana mousse.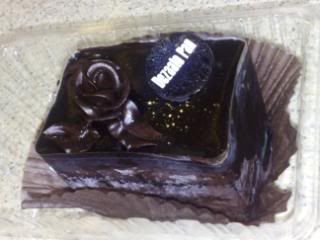 I'm definitely sure that I'll be buying one, two or three of it next time. A whole cake perhaps?
Happy Eating!DEZAATO PAN
Mall of Asia
CHOCO BANANA MOUSSE
SLICE
- 75.00
6 inches
- 395.00
8 inches
- 595.00