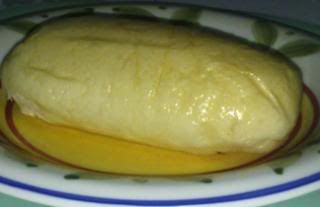 Oval-shaped treat, baked with cheese stick inside.
My mother was the one who ate this first. I gave her a grilled one to try after coming home from Tinapayan.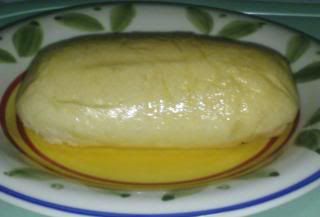 She said that she liked it more than an ensaymada because the cheese was inside and not outside. You get to taste it more and not mixed with sugar or buttercream that overpower it sometimes.
She also said that it has a creamy, unforgettable aftertaste that will make you crave for more.
I, on the other hand, ate it after a couple of days in the chiller, also grilled.
I didn't like it as much as my mother or my experience wasn't half as good as hers.
The roll was spongy and dry but it does taste good with the slightly caramelized sugar glazing the roll and the melted cheese inside.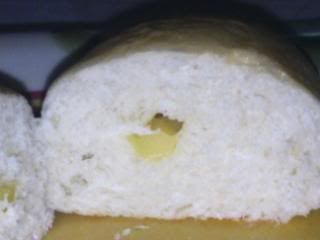 When eaten right away, the cheese will melt equally or with neither a solid part, but when grilled after a few days in the chiller, the cheese will not melt all throughout.
I guessed it doesn't do well in the chiller and that it should be eaten right away.
Happy Eating!