Part of the new menu of French Baker, the Chicken Cordon Bleu consisted of deep fried roulade of flattened chicken meat with butter and cheese, encrusted in seasoned sourdough bread crumbs. Served with creamy herb sauce, pan-roasted seasonal veggies and your choice of either rice or roll, all for P169.
The chicken was thick but tender, not enough cheese though in the roulade. Also, the herb sauce didn't complement nor enhance the taste of the dish. The breading too was too fried, that it was bitter on some parts. While the dinner rolls were soft and buttery.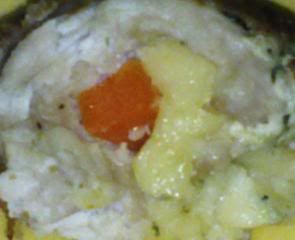 The mashed potato was a surprised, both because it wasn't on the menu and second, it was creamy good, as in delicious good. I wasn't that fond of the roasted veggies because they were overcooked, tasteless and they reminded me of the time I tried the GM diet, the all veggies day, which I want to forget.
And if you ask for water, they'll serve you a lemon-infused one, not on glasses but on a pitcher.
Happy Eating!