I first saw the cafe on another blog and looked for it at MOA last week. Unfortunately, I bumped into two guards that told me that the restos closed already, disappointed I ate at French Baker instead. Later that night I saw their account on facebook and asked them about it. I was told that I was given the wrong information by the guards and that they are still open.
I came back the next day, excited to try their
Fried Lasagna Rolls P285 and White Chocolate Bread Pudding P185
.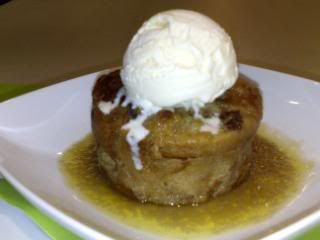 Bite size lasagna served with a twist. Rolled not layered, fried not baked. Served with marinara sauce.
It's something different and filling for an appetizer/starter.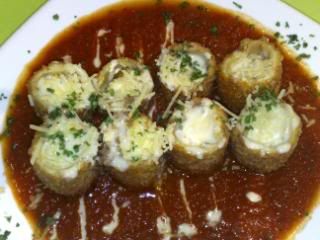 I love the smell and the crunch of the perfectly-seasoned breading paired with the creamy cheese and the not so tangy marinara sauce. I can easily get use to eating it.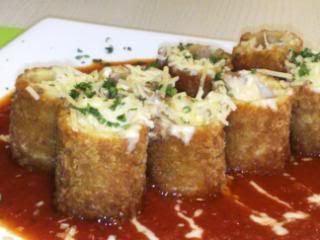 The garlic cream sauce on the other hand tasted different. I didn't taste the garlic no matter how hard I tried. I even asked the servers several times if there's really garlic in the sauce. But I know that I have tasted something similar to the sauce, what, I can't remember.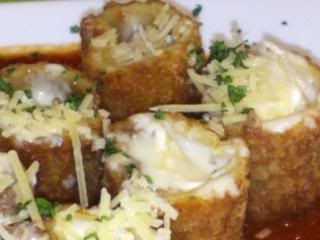 Each roll was generously-filled with meat sauce and cheese. It's an unhealthy but delicious way of eating my fave Italian dish.
The White Chocolate Bread Pudding is served with vanilla ice cream on whiskey sauce.
I didn't taste the white chocolate but just something sweet. Still, the pudding's good. Sweet, crunchy, soft, warm and cold.
The crunchy but soft pudding paired with the cold ice cream and the warm whiskey sauce is divine.
The only downside was, when the ice cream's gone, the whiskey sauce becomes too strong, as if drinking the whiskey straight-up. I'm tipsy, don't let me drive (as if I do :-) )
Happy Eating!UNIT 8 CAFE
South Wing Ground Floor,
Entertainment Mall,
SM Mall of Asia
- near coffee bean and tea leaf and beside gallanera