Brioche type bread topped with buttercream and cheese with bits of ham filling.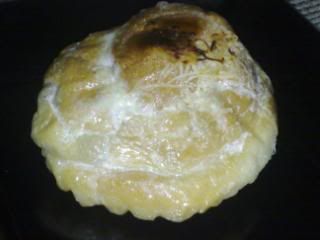 I haven't eaten that much ensaymada with ham to compare it to, but theirs was soft, fluffy, not too sweet and there was a good play of flavors from the tart melted cheese, sweet ham and caramelized sugar and creamy buttercream. The only thing missing is something salty. They should have added salted egg or use a different kind of ham in their ensaymada.
Even though I like the sweet and creamy combo, I can't help but to look forward for something salty or wish that it has something salty in it.
Happy Eating!