When I was craving last week for something mexican, I chose to dine at nowhere else but in
Mexicali
in Makati.
I ordered
Chicken Enchilada with Mexican Rice and Salad for P175
.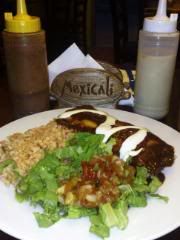 Baked filled tortillas covered with salsa ranchera, cheese and sour cream.
The tortilla was soft, the chicken filling was tender, flaky, well-seasoned and more than enough for the tortilla wrap. Also, the sour cream enhanced the overall taste of the dish. And the rice and salsa were both seasoned just right.
I don't think I will be satisfied with just one, I would want to eat it several times a week.
For dessert I had the
Butterscotch Pie P75
, a family recipe of the owner of Mexicali.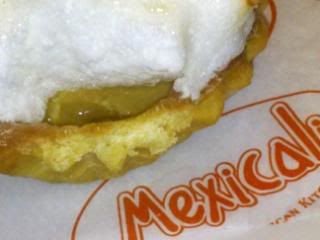 Caramel/butterscotch filled pie topped with spiked toasted meringue.
The spiked meringue was reminiscent of a baked alaska. I love the caramel/butterscotch filling but not the dry and hard pie crust. It was rock-hard that I wasn't able to bite thru it.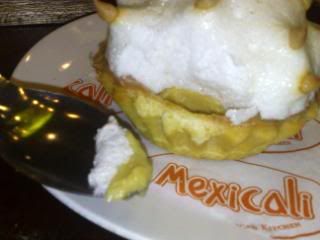 Happy Eating!