I regularly watch
Giada's Weekend Getaway
at the
Lifestyle Channel
even if they were old episodes. I never grow tired of watching it. On one of their episodes in South Beach, Miami, Giada ate at
Joe's Stone Crab
. She had their bestsellers, the Stone Crab Claws and Key Lime Pie.
She was satisfied with both. And as she ate, she was describing the pie as made with condensed milk, egg yolks and lime. That sounded easy and yummy that I googled the recipe.
I was out of dessert last Wednesday that I tried making one.
It does was easy to make with just a few ingredients. Unfortunately though I wasn't able to buy limes that I used calamansi instead. Also, I cut in half the supposedly amount of lime juice in the recipe. And instead of lime zest I used lemon zest.
I never thought that it would taste good but it did. Right contrast of sweet and sour and creamy and crunch.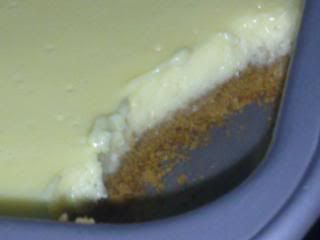 This would definitely not be the last time that I'll be making it.
Happy Eating!