Flourless chocolate cake with toffee bits or sugar crystals topped with Bailey's cream icing and liqueur-soaked strawberry slice.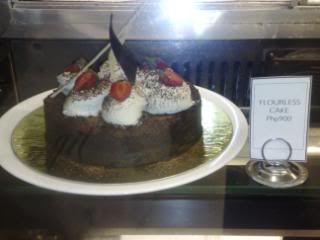 The cake was dense but soften easy when under or at room temperature.
It has a bittersweet taste but leaning more on the sweet side, like 3/4 sweet and 1/4 bitter.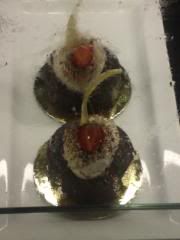 It also reminded me of a Tootsie Roll in taste and oftentimes gave the Crunch chocolate bar effect.
The Bailey's cream icing didn't taste alcoholic or with liqueur at all. But it did complement the chocolate cake, and even toned down its sweet effect.

Happy Eating!