Hazelnut flavored gelato (Italian ice cream) at P70 a scoop.
Their version is not only flavored with hazelnut but also mixed with it.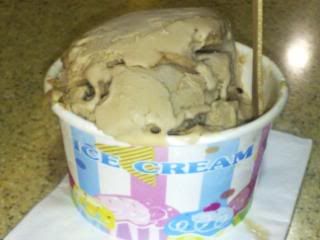 At first lick, it tasted of Kinder Bueno's filling which I adore. But later on it became bland and even tasted of the paper ice cream cup it's on. I don't know what happened but my sister guessed that the chemicals in the cup's too strong that it rubbed on the gelato. Whatever it was, I was really disappointed and I don't think I'll be trying any of their gelato flavors any time soon, except maybe for the Rocher (which the manager said they didn't offer ever since. Then why put it on the menu?) and the other one which name totally escapes me.
Happy Eating!