They said that this restaurant/dessert shop and their mango juice with mango cubes are one of the must-go resto and must-try food in Hong Kong. That I was surprised when I saw its newly-opened franchise near the cinema in Mall of Asia.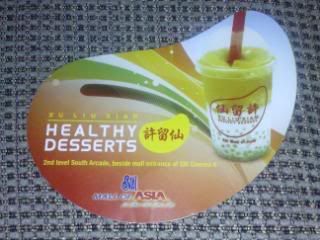 Xu Liu Shan
(Chinese) is named after its creator. It started as a herbal tea shop that evolved to a franchise restaurant that specializes in mango desserts.
There were lots of choices but not as many as those in Hong Kong. They don't have bird's nest and the other fruits, ice cream and juices concoction, like these.
For that evening I chose the
Fruits with Mango Ice Cream for P160
.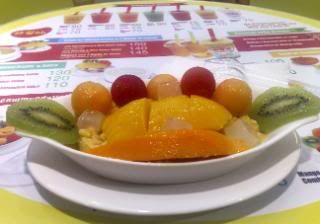 Crumbled mango ice cream topped with assorted fruits (papaya, kiwi, mango, melon and watermelon balls and nata de coco).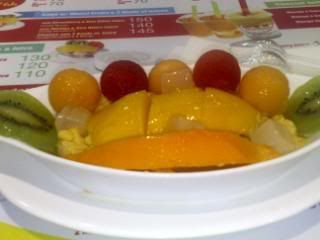 The serving was not enough for me but was still filling. The fruits were fresh but the papaya that day was a little bit bitter. Also, the ice cream melted fast and was too few to be considered a treat.
I would want to try their mixed juices and mango pudding next.
Happy Eating!XU LIU XIAN
Healthy Desserts
2nd Level South Arcade
(beside mall entrance of Cinema 6)