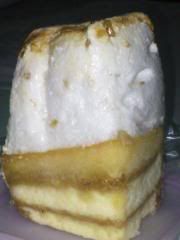 Layers of pound cake, caramel/yema and cashews topped with meringue and drizzled with sugar caramel.
It is their (Tinapayan) version of Brazo de Mercedes with pound cake.
Although it was good, I still prefer Goldilocks Brazo and Bagoong Club's Brazo de Remedios. A better version of the Brazo would be with their (Tinapayan) custard (the one they use in their cream puffs and eclairs), instead of the yema/caramel they used in here, 'coz that would truly be divine.
Happy Eating!